---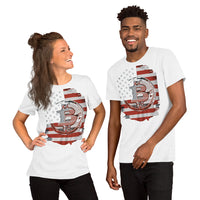 Sport Your Crypto Passion with our Bitcoin American Flag T-shirt

Celebrate the spirit of innovation and freedom with our exclusive Bitcoin American Flag T-shirt. A fusion of traditional symbolism and modern technology, this T-shirt is perfect for anyone at the forefront of the financial revolution.

Exceptional Quality: Crafted from high-quality fabric, our Bitcoin American Flag T-shirt is designed to offer both comfort and durability. Its soft, breathable material ensures a comfortable fit, while its resilient construction withstands the rigors of everyday wear.

Innovative Design: Featuring a unique design that blends the Bitcoin logo with the iconic stars and stripes of the American flag, this T-shirt stands for innovation, freedom, and the pioneering spirit of the cryptocurrency world. It's a bold, stylish statement, ideal for crypto enthusiasts and patriots alike.

Size Inclusivity: Our Bitcoin American Flag T-shirt is available in a wide array of sizes, catering to all body types. Because we believe the crypto community is as diverse as it is vibrant, we've made sure our apparel reflects that.

Express Your Bitcoin Pride: What better way to show your support for the future of finance than by wearing it proudly? This T-shirt is not just a piece of clothing; it's a testament to your belief in the transformative power of Bitcoin.

Perfect Gift Idea: Our Bitcoin American Flag T-shirt makes a great gift for the Bitcoin enthusiast in your life. It's a unique, personal way to celebrate their passion for cryptocurrency and its potential to revolutionize the financial world.

Join the Bitcoin Movement: Purchasing this T-shirt is more than a fashion statement. It's a declaration of your support for Bitcoin and the values it represents – decentralization, transparency, and financial freedom.

Bitcoin is reshaping the financial landscape, symbolizing a bold new frontier in global finance. By wearing our Bitcoin American Flag T-shirt, you're not only a part of this revolution, but also a promoter of it. Embrace the future of finance today with this stylish, statement-making T-shirt!