---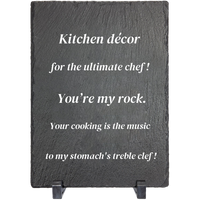 This Kitchen decor laser Engraved Slate Stone Decor piece makes a great gift for the cook you admire! or personal gifts! Each Piece varies slightly in exact shape and color, these are real slate so no two are identical. - Rectangle shapped.
It says "Kitchen décor for the ultimate chef! You're my rock. Your cooking is the music to my stomach's treble clef."
Makes and amazing Home decor, house decor accent piece.
This poem is protected by copyright with the library of congress TX 8-571-133,
Only from STERLINGCLAD.
Available in two sizes. 
Made of actual stone with chipped edges. Sizes may vary.
Comes with 2 plastic feet.
All Slate items are coated with a scratch resistant Food Safe Coating.
Material: Slate
Color: Charcoal Gray
Lasered Color: Light Gray
Overall Sizes: 
5" x 7" x 1/4" thick
7" x 9" x 1/4" thick